NEKROPOLIS RECORDS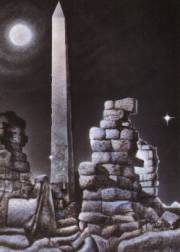 PETER FROHMADER GULAAB GERHARD SCHEDEL ANDREAS MERZ

Born: 09.05.1958
Early interest in music and art:
1971 During the grammar-school time first foundation of a group called "Alpha Centauri" (Avantgarde, electronics & atonality); first e-guitar;
1973 Foundation of the group "Electronic Delusion", self made electronic instruments, tape music "musique concrete", synthetic & natural sounds, clangs& loops, etc.; turkish string instrument "saz"
1974 / 1975 Foundation of the group "Kanaan", instrumental music (Jazz, Rock,Free Jazz, Electronics & oriental music). Many live concerts, open airs, etc. until 1979, during this time period two solo bands projects inclusive some excentric style music: "Malaria" & "Bizarro", also subtitled "Paranoia de Luxe" and based on "Paranoia Frame" (self combined electronical instrument, inclusive many single modules) sound unit;
1979 Foundation of the group "CIA" (Hard Rock, Space Rock, Guitar Music). Live Gigs in Germany & Austria, Arena in Vienna, etc., Studio Record for Solo projects (Nekropolis). Foundation of the group "NEKROPOLIS". - During the Seventies playing all kinds of basses, saz, guitar & electronics-Gigs since 1975;
1980 Studio Recordings for the first LP, Concerts of CIA & Nekropolis;
1981 First one-hour-portrait on bavarian broadcastings (Bayern 2) inclusive interview; LP "Nekropolis";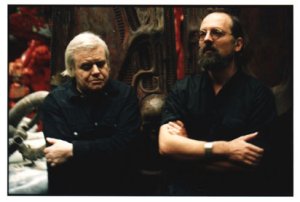 1982 LP "Nekropolis 2"; Collaboration with the swiss oscar winner and painter H.R. Giger, composing soundtracks for some of his films & videos, Live Gigs of Nekropolis, also at Rock in Opposition-festivals in Yugoslavia for example, radio transmission;
1983 10 LP "2 Compositions", Concerts, LP "Nekropolis LIve", recorded by Julius Schittenhelm, Guest musician on Schittenhelm's LP "Rundschlag"
1984 Composing & Recording of Ballet music, Alaska-Symphony, Winter Music, Bass Symphony No.3 for electric bass guitars, radio works;
1985 LP "Cultes des Goules", LP "The Forgotten Enemy", Airplays; Concerts playing the Chapman Stick beginning of the 80's till 1985;
1986 LP "Ritual", Sweden, Concerts in Munich St. Maximilian cathedral featuring synthesizer music & other concerts, interviews in London;
1987 LP "Homunculus Volume 1" & LP "Winter Music", Sweden, MCs "Jules Verne Cycle" & "Orakel/tiefe" (1986 first published) both in England;
1988 Invitation "Synthesizer Festival" Neue Akademie Braunschweig, cathedral concerts in Munich St. Anna, Musica Sacra Viva, DoLP "Through Time & Mystery - Ending" (10th album on record); Nekropolis Label works; LP "Homunculus Volume 2", Sweden, radio portraits BR, WDR (Germany)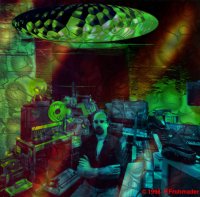 1989 CD "Miniatures", Computer works, radio portraits BR, WDR, HR;
1990 CD "Macrocosm", USA, CD "3rd Millennium's Choice Volume 1", radio portraits, Bretagne - Trip, again film works;
1991 CD "Armorika", Impressions & Fantasies about Britanny, radio realisations, playing again string instruments (e-guitars & e-basses), foundation of a guitar band (trio "Peter Strom", different castings till end of 1993); 2 hours portrait in "Schwingungen" WDR/Cologne, CD "3rd Millennium's Choice Volume 2" (december 1991);
1992 CD "Attenti al Treno" (Schedel, Merz & Frohmader), foundation of NEKROPOLIS MUSIKVERLAG (owner: Peter Frohmader), radio...;
1993 Producing & playing on Gulaab's CD "Veils of Mystery" (NCD 006), gigs ("Strom" & "Kanaan"), studio works & producing, radio;
1994 CD "Advanced Alchemy of Music", radio portraits, CD "Cycle of Eternity, USA, CD "Stringed Works", Sweden, again radio & press... CD "Nekropolis Live", Germany, on Ohrwaschi Records"
1995 CD "Gate" on Atonal Records, Berlin, Germany; DoCD "Homunculus Volume 1 & 2 & Ritual", Multimood Records, Sweden
All over the eighties and nineties many own portraits on air in Germany, US, Canada, France, Spain, Portugal, Velgium, Sweden, Holland, Poland, CSFR, Austria, Switzerland, Japan, etc.
Many articles, portraits, interviews & reviews, based on international acknowledgment.
Collaboration with other composers, musicians & artists of various countries in concerts, sessions, studio productions (on records of other and Nekropolis recordings / productions. Just to mention some other names: Chris Karrer (Amon Düül II), Joel Vandroogenbroeck (Brainticket), musicians of "Embryo", "Sparifankal", "Bittova & Faith", "Fraunhofer Saitenmusik" (Richard Kurlander: Harfe), Ange Gerkens, Norbert Preisler, Steffen Seithel (WDR-Tonmeister & Musiker), Stephan Manus, Rudi Haunreiter (Emtidi, Niagara, etc), Birgit Metzger, Petra Fierlbeck, Hubl Greiner (The Blech) and some more artists and film directors, various meetings.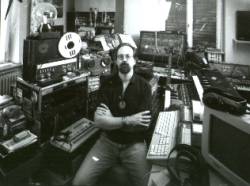 Doing music for films, videos, TV, Theatre, radio plays and so on.
Producing some own experimental films & videos.
Playing many instruments for 25 years now (autumn 1994)

Up to now, Gulaab has had a rather exceptional career: Living three years in the Himalayan kingdom Nepal, he worked as a guitarist for the legendary Boris of Kathmandu. Boris, a friend of king Birendra V of Nepal, provided culinary titbits to personalities coming from all over the world in his noble dining establishment. To finish the exclusive meal, each guest had the opportunity to order a "musical desert" from Gulaab's classical-Spanish guitar. Mountaineers, from Edmund Hillary to Reinhold Messner, ambassadors, politicians, including the king and his family, invited him to their table - a thousand and one nights in total...
In the Far East, Gulaab (Nepali word for "rose-flower") learns that not one single component in nature can exist without its counterpart. Building on this knowledge, he creates his music - a sound that moves into spheres but never fails to get back to earth, in other words: Spheric sounds, accompanied by vivid rhythms. To achieve this goal, he uses natural instruments such as flutes, African percussion, sitars and guitars, occasionally mingling these with synthetic sounds.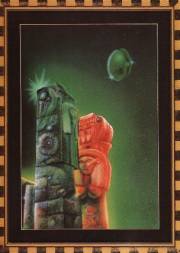 In his music, Gulaab transforms all his experiences into sounds: extensive travels all over the world, specially the Eastern Hemisphere, as well as experiences in the esoteric field.
Back in the west, Gulaab performs on stage, TV and radio. He not only composes music for dance - and theatre - productions but also tours with most of these groups, the largest project of which being "Mondaufgang" by the Swiss Dream-Circus Rigolo (Switzerland Tour 1990-1992). Apart from that he works on coproductions for radio-plays, together with the German author Gina Ruck-Pauquet, as well as composing and producing film-music. In 1985 he won the Bavarian broadcast "Zundfunk". Further productions: "Meine Lieder", "Live 1", "Live 2", "Die Blaue Blume", "Derr Narr", "Der Weg", "Die Stadt mit den Goldenen Dachern", "Ritt durch den Hades", "Styx".

Born on January 31, 1955, in Munich, Germany.
Special electronics, music programming, computer music, recording engineer, sound-installations, videoart, computer animations, interactive art.
Schedel began in 1971 building electronic music devices for live electronics. Gigs with a rock group making electronic sound-fx and playing synths ('71-'73). First own recordings of electronic music using self-made electronics, a Roland SH1000 synthesizer and a EMS Synthi AKS on a Studer G36 2-track tape-recorder ('71-'79). Worked at recording studios with THE DECORATORS, NEUMANN, WELTKLANG, NEKROPOLIS ('78-'83). 1984-90 broadcast-video-editing, now tester & writer for PC computer and music magazines.
Awards: The song "LANDSCAPE 1" won in class B at the 8th international annual Synthesizer-Tape-Contest in 1984, sponsored by ROLAND Musical Instruments (Japan). The experimental music video "PAY'86" was selected for award by FUJI-TV (Japan) at the MUSIC AND VIDEO Competition in 1986.
Bands: ('81-'86): THE ANKLES cassettentaterverband, KWALITAT 100%, DISSIDENTS, REAL SHARKS, KURGMULLER, FRANCE DOUCE. AMPZILLA'S DELIGHT ('84-'88) (with the artist-painter Claus Eben) was founded for a sound installation at the art gallery KUNSTRAUM STUTTGART inn'84. AMPZILLA'S DELIGHT is now a one person project of Gerhard Schedel.
Music: Took part at several compilations (on cassette / LP / CD / video).
Music for films: ECHT TU MATSCH (with the group NEUMANN), SPALTPROZESSE, SCHICHTWECHSEL
Music performances: with: RABE PERPLEXUM '83, ArtGenosseN '85 live music and video performance: KYBERNETISCHE MUSIK LIVE '86 (at kulturzentrum GASTEIG Munchen)
Computer graphics and animation: TV tittle for the film "MAMA, PAPA, AUTO" - Ein Nachruf auf das Automobil. (prod. Hessischer Rundfunk - c'91 by denkmal-Film, Munich) with Uta Hervol.
PCC88 Scope-Screens ('82)
VIDEO-DADA1 - with the Fun&Art group for VIDEO-KONGRESS ('82-'83). Format: VHS
UNRUHIGE NACHT - NEKROPOLIS II ('83) - with Peter Frohmader. Format: VHS.
PAINTINGS AND SOUNDINSTALLATIONS AT KUNSTRAUM STUTTGART ('84) - with Claus Eben. Format: U-Matic HighBand
SLOT MACHINE ('85), KARLS HOLLENFAHRT (Kamera: Claus Strigel) - with W. Neumann & U. Bassenge. Format: U-Matic HighBand
VIDEO-DADA II ('89) - with S.A. Ehrlich. Format: U-Matic HighBand
PAY'86 (TOKYO) / PAY'87 (OSNABRUCK), MOLOCH CITY ('90) - solo projects. Format: U-Matic HighBand, Betacam SP
INTERACTIVE GRAPHICS & MUSIC (ARS'91), ANLIEGER FREI, DAS MEHLKRAFTWERK - with Uta Hervol. Format: VHS, U-Matic Low.

Born on December 27, 1957, in Munich, Germany.
Computer music, live music: group "Weltklang". Soundtracks for Alexander Kluge (German film director). Producing sounds for production of sampling CDs. Studio for Speech & Sound Synthesis in Munich. Working in the fields of electronic music since 1982.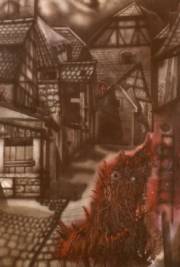 More info about Nekropolis Records / catalogue and prices




RETURN TO AMAZING SOUNDS - ENGLISH
Main Page | What's All This! | What's New | Features/News | Reviews | Services
Industry | Galleries | Sources | Hot Links | Correspondence

VOLVER A AMAZING SOUNDS - ESPAÑOL
Página Principal | ¡Qué Es Todo Esto! | Novedades | Artículos/Noticias | Reseñas | Servicios
Industria | Galerías | Otras Fuentes | Enlázate | Correspondencia