JON JENKINS AND PAUL LACKEY
"CONTINUUM"
Spotted Peccary Music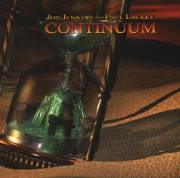 Jon Jenkins proves one more time that he is one of the unquestionable electronic musicians of our decade. The magician (here with Paul Lackey) shows all his abilities with keyboards. Continuum offers us great textures (listen to the incredibly atmospheric first theme), ambient soundscapes and powerful percussion. A real feast for lovers of modern electronic music. The album, with 11 themes, has been composed by Jenkins and Lackey. Howard Givens and Teeto Cheema also have contributed with guitars, flute and additional keyboards.
M. MONTES
If you wish to purchase this recording you only have to click here (CD Universe).

Previous Page (Reviews)