HARMONIA & ROGER ENO
"CLASSICAL MUSIC FOR THOSE WITH NO MEMORY"
Materiali Sonori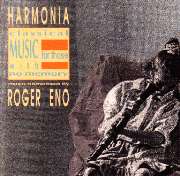 In this compact, the band Harmonia play music by Roger Eno. Harmonia is formed by Orio Odori playing the clarinet, Damiano Puliti playing the cello, and Alessandra Garosi playing the piano. This release consists of four themes, with a total running time of 17 minutes. It is complemented with a five-minute phone interview in which Roger Eno answers some questions. The style of this release belongs into classical music. The four pieces are of a melodic nature, with a certain romantic air.
D.D.

Previous Page (Reviews)