NEURONIUM RELEASES "PSYKYA"
By: Jorge Munnshe / Amazing Sounds.
---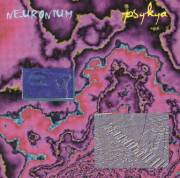 Psykya, the long time expected album # 25 by Neuronium, has just been released. This CD, about whose creative process Amazing Sounds has already had the pleasure to report, has awakened great expectations among the fans of electronic music. It was known that Michel Huygen (the founder and since 1983 the only member of Neuronium) was preparing something special, risky, coinciding on the one hand, with the 20th. anniversary of the release of the first album by Neuronium, and on the other hand, with number 25 that his new compact was going to have. The result not only does not disappoint anyone, but also will no doubt astonish the audience. Although the basic style is the same as that in previous albums such as Astralia or Infinito, now some sequencers appear, and the design of the sounds turns out to be more spectacular. At the corresponding review in Amazing Sounds, there are other descriptions of the music.
Michel Huygen gives us an exclusive interview just the day after his album is released, even before distribution begins. He greets us in his studio. We are honored to receive the first copy of Psykya that the artist has made available for the mass media.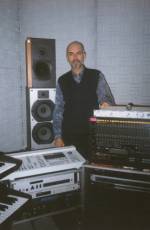 The first question to interest us is what themes or concepts have inspired him to create the pieces in the album or their titles. He warns us that the titles have not been chosen at random, but rather that they keep a tight relationship with what he has intended to express. Psykya is a word he has invented from the Greek word that refers to the mind. "Geomagnetica" owes its name to the terrestrial geomagnetism, and in this piece he has intended to re-create this force as well as the movement of the Earth. "Neuromagnetica" defines the neural impulses moving from one point to another point in the brain. "Internauta" evokes the journeys of the internauts through the computer nets. About this latter one, he explains: "This piece responds to my own experience ever since I connected to Internet. Musically it exploits the most romantic side of my style, although combined with very electronic environments, and sounds that evoke computer connections, as if re-creating navigation in Internet, floating from a web to the next. Perhaps it may appear as if it were unrelated to the other two, yet it is true that it completely fits into the whole. As you already know, I composed it on December 1996, soon after I finished the mixing of the second theme, and I realised that it was an indispensable part of the work. If I had not included it in the album, now I would be regretting it".
Huygen warns the audience on the cover of the CD that everything that sounds is generated by electronic means, and performed on keyboards. He also warns us that in certain passages, he has introduced subliminal effects that are best perceived at a second hearing.
The sonic complexity in the music by Huygen grows in such a way from album to album thanks to the new technologies and the imagination of the artist, that even, as he himself tells us, he has discovered effects and shades in Psykya that had been unnoticed at first when he composed and recorded the album. Also one must take into account the fact that the times he listens to his own music while he is creating it are numerous indeed. "This is the first time ever that something like this has happened to me in the twenty years of my career. It was yesterday, when I listened to the album so as to give the go ahead to its distribution". He attributes this curious occurrence to the fact that when he is working in his music he is so concentrated on it that in a way he splits, disconnecting himself from whatever is surrounding him, and even from his normal perception as a listener.
On the other hand, he considers this album to be the most personal one of all those he has ever made: "I would say that this is my mirror-album. All are more or less the reflection of how I am, yet 'Psykya' portrays me through and through. I realised about that yesterday afternoon. It is as if it were a personal diary in a musical format, and this is why there are passages of a different kind that reflect for instance from my romantic side to the most melancholy side of my character; the music shows the feelings I and any other person have at one given moment or other; happiness, sorrow, everything is a part of life".
Perhaps one of the facts that make Psykya the most personal album of Huygen's is the fact that, unlike the previous ones, in this one he has personally taken care of the entire graphic design, displaying an imaginative artistic side that many of us had already perceived. The graphic work was handmade by himself, "filling in the pixels one by one". It took him two months to complete everything. He took care of such minute details as the design of each one of the letters in the alphabet so as to use them here in an exclusive way, since these specific types of letters do not belong to any commercially available bookshop, but rather are a personal creation of his own. "I wanted them to give the impression that they are handwritten, but by means of paintbrush strokes". Two are the sets of characters he has created.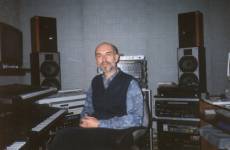 Not only the covers of the CD box have a special graphic design. "I have also set my graphic designs on the surface of the CD, so that it may, by itself, even without a box, stand out from any others". It is true that the surface of the CD turns out to be suggestive enough; it is neither too abstract, nor too concrete, having the exact degree to boost imagination at its utmost. I personally see a ocean with continents that are not those from our planet, and so I tell him. "It's nice to discover that in my graphic design each person can see something different, new, unsuspected by myself. For instance, your interpretation of an ocean with continents, had not even occurred to me. I see some more complex things. For example, an image, taken from a great height, of a jungle criss-crossed with paths, in which any other traits had been suppressed". Also his photograph on the back cover has been electronically treated by himself. "I added a light veil, similar to a soft halo of light, so that it wasn't the typical cold photo".
In the last months, the creativity of the artist is being extended also into the multimedia universe, not only in such areas as the inclusion of CD-ROM tracks in musical CDs, or the graphic design, but also in Internet. Since some time ago, he has felt fascinated by this young medium, and has begun to design some multimedia web pages. "I use an extremely sophisticated program, up to the point that its circulation is so restricted that it cannot even be found in Europe. I bought it in the United States. I had already worked with this kind of design programs to develop the CD-ROM track of 'Alma'. I have discovered that by designing multimedia webs I enjoy myself as much as composing music. I am lately devoting half my day to the music and the other half to the multimedia design. They complement each other very well, since I rest from one aspect by working in the other".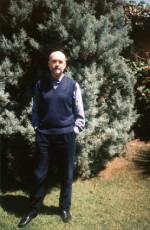 We ask him about definite projects of this new artistic side of his in which he is now working: "I am designing a virtual gallery of paintings by Tomás Gilsanz, that I expect to launch in a couple of months. He deserves that, as he is a great painter, besides being a good friend. Furthermore, I like working with his paintings. He also feels attracted by the idea. The other day, when I asked him about whether he would agree to let me use for the gallery two of his pictures enlarged by myself to a three-dimensional format, he was fascinated and told me I could do whatever I liked with his paintings. He was surprised at the idea that his pictures could get to have volume".
We also asked him, intrigued, about the reach of this transformation into a 3-D format: will the audience be able to turn around the objects and landscapes so as to appreciate them from any angle? "Taking thre three- dimensional format up to that point is much more complicated than my initial purpose. There are programs that can do it in an automatic way. Yet the easy solution to make the back side be the same as the front side does not appeal to me. The challenge is that I don't start from something invented by me, but from something that is already done, and with the inimitable style of Gilsanz, so it's not easy to invent the hidden part of the objects that appear in his paintings. In the first gallery that I will make, the observers will not be able to see the pictures treated in 3-D by me from the back, but they will be able to go right within them".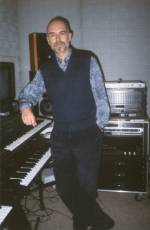 Multimedia design will from now on also be a speciality of Oniria International, the firm led by Michel Huygen.
As we finish the interview, when asked about other future projects, he surprises us with a pleasant piece of news for his fans as well as those of Jonn Serrie: "Jonn Serrie, who I know since eight years ago, has proposed me to record an album together. This has been something unexpected by me, since I hadn't even imagined a collaboration between both of us. I'm going to accept his offer, as, apart from being his friend, I appreciate his music very much".
And to end this report, we reproduce a sentence by Huygen that we consider to be very revealing about what his vocation means to him: "What attracts me most to compose music, is to stimulate the imagination of the listeners with it".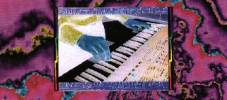 ---

Previous Page (Articles/News)