INNOVATIVE WOMEN COMPOSERS:
A SILENT MINORITY? (11)

By: Montse Andreu
---
One would think that the so long fought for equality of the sexes should have reached the adequate levels with respect to the chances that women have to succeed in the field of alternative musics. This is not so. And nevertheless, there are women who have devoted part (or all) of their careers to electronic, experimental composition, who have a great deal of talent. The objective of this series is to make some of these names known to the interested readers.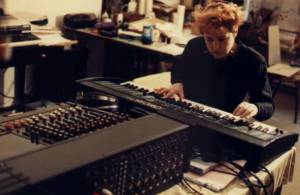 MARY ELLEN CHILDS:
Composer Mary Ellen Childs has specialized in the creation of a musical style of a postminimalist nature, with delightfully sensitive and fresh textures.
SUSAN CHRISTIANSEN:
This professional composer specializes in the production of music for movie soundtracks, film, television, commercials and multimedia art, basically utilizing the latest technological developments in the field of synthesizers and computer music, besides having developed several multimedia educational programs on the conducting of orchestras, musical notation, sample scores, composition, and arrangements, among other issues. Besides her musical studies, which include a Certificate for Film Scoring at the University of California at Los Angeles, as well as her B.M.in Music Composition, at the University of California at Santa Barbara, Susan Christiansen has obtained a B.A. in English Literature, at this same university.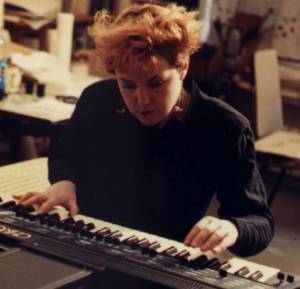 MAIA CIOBANU:
Romanian composer Maia Ciobanu, born in 1952, receives her musical education at the Academy of Music of Bucharest from 1971 to 1975, and completes her musical studies with different international courses at the German city of Darmstadt. Being awarded first prize in composition at the Conservatory of Bucharest in 1971, she also is the recipient of other prizes and honorific mentions such as the one of the composition contest GedokMannheim. Maia Ciobanu later develops a fruitful educational career teaching harmony and musical forms at the George Enescu Music Lyceum of Bucharest, as well as publishing several essays and articles in the musical press of her country; She also gives interesting lectures on music at the Academy of Theater and Film of Bucharest. Her musical production includes from the vocal symphonic music to other non-vocal symphonic works, chamber music, choral music, as well as electronic and electroacoustic works, didactic pieces and ballet music. The founder and director of the music group "Alternative", this band develops their compositions basically utilizing the piano, synthesizer, wind instruments and percussion. A former student under the also Romanian woman composer Myriam Marbe, Ciobanu actually belongs to a generation of musicians whose aim is to create a kind of music in which novelty and freshness are the essence of the creative process. Thus, her works will no doubt be centered in the research of the methods characteristic of the New Music in the production of novel, interesting sounds, looking for a suitable path to express these sounds. Her use of the synthesizer and the magnetic tape, as well as her utilization of repetitive music relying on the New Music expressivity, rather than the archaic structures of a romantic shade, are no doubt masterfully intertwined in her music, illustrating the points mentioned so far. Among her works mention must be made of "Three Sculptures for String Quartet", an homage that the composer pays to the also Romanian sculptor Constantin Brancusi, as well as to the Romanian poet Lucian Blaga, whose texts are recited with a musical accompaniment of a polyphonic nature in the pentatonic scale.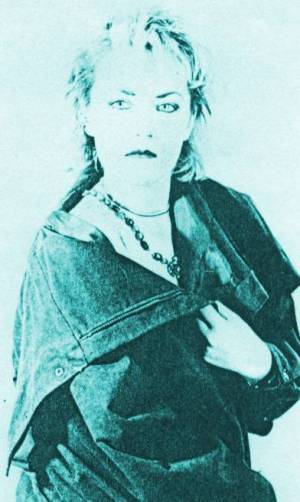 ANDREA CLEARFIELD:
This American composer born in Philadelphia, in 1960, is the founder of the Philadelphia SALON Concert Series, specialized in New Music and classical music in general, besides being an active performer as a collaborative pianist in this institution. As a composer, she has developed a remarkable production for chamber ensembles, choral works, orchestra, theatre and dance. Her works are frequently performed both in the United States and abroad. Andrea Clearfield has received several prizes, awards and grants, among them the Nancy Van de Vate prize for orchestral music by the International Alliance of Women in Music. Clearfield is a professor at the University of the Arts, and is Presidential Scholar for the doctoral program of the Temple University.
WALTRAUD COOPER:
This interactive artist presents her work "Klangmikado" in the Ars Electronica Festival 1987. This work belongs to her series "Digital Poetry". In this series Cooper combines all the possible forms of artistic expression by means of electronic technology and computers, in a range going from visual to linguistic, and centered in the musical creativity. Her composition allows for a number of games where each one of them becomes light and sound, at the same time as the artist controls the light processing, which results into a multimedia composition of a surprisingly strange artistic quality.
ELEANOR CORY:
This composer, who has worked within the genre of New Music, is a member of the New York Women Composers Association, and has composed, among other works, "Tempi" (1971), basically using tape in this seven minute long composition.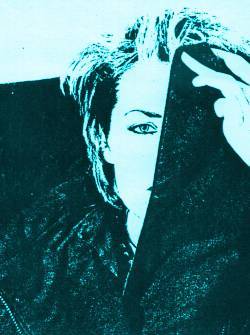 TARA CROSS:
Born in 1957, her interest in music awakes at age 13, when she begins to play the guitar. Later on she experiments with an Electro-Harmonix mini synthesizer and a primitive drum box. She finishes her studies at the Hunter College of New York, where she majors in Music and Psychology, yet she decides not to pursue her musical studies in an academic institution, since her primary interest is centered in the performing arts, and she joins different groups in this period. To her, the world of academic music does not really matter. Despite the opposition of her family, she devotes her time to her musical career, focusing her efforts in a very unconventional, experimental kind of music. She herself produces, composes and performs her own works, acts as her own public relations, takes care of the administrative and secretarial work, etc. Besides, she has had different jobs -ranging from librarian to shop assistant and typist, among other things, even though her favourite job is related to cosmetology. As a musician, she considers herself as some sort of sound structurer who experiments with sound the same way as a painter would experiment with colors. Some of her works have appeared in different compilations, as for instance in Japan ("Mineral Composition"), Spain ("Femirama"), France ("SNX"), a compilation CD in Japan called "A Conculsion Of Unrestrained Philosophy"... Likewise, she has participated in compilations containing pieces by her appearing in 25 different tapes. Her first solo LP was "Tempus Fugit", released under the label Permis de Construire. Tara has performed live in several occasions, among which most remarkable is the one she gave in 1987, in "Fashion Moda", at the Bronx, broadcast live via satellite to France and also by the radio station WNYC in New York as well as in another French radio station. Nevertheless, she dislikes live performances, since, as she has no supporting band, she herself must prepare the necessary recordings with the accompanying music, transport the equipment, etc., which is a true nuisance to her. Tara Cross has her own studio at home, equipped with two electronic keyboards, a guitar, a triple delay unit with a sampler, a Roland MC202, eight sonic tracks, three cassette tracks, and other devices she needs to make her own recordings. Even if she admits that this may look like a poor sort of equipment, she believes that creativity can always compensate for the apparent lack of means.
---