KAIJA SAARIAHO:
FINLAND'S ELECTRONIC ESSENCE

By: SIGRID BAUMANN
---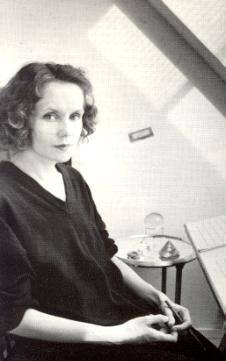 Kaija Saariaho, a Finnish composer of electronic music born in 1952, has become internationally known thanks to her musical works, where she explores the possibilities that electronics has to offer. She begins her adventure with electronics in music by studying the visual arts at the University of Industrial Art (nowadays known as the University of Art and Design) in Helsinki, and later goes on to study Composition with Paavo Heininen at the Sibelius Academy from 1976 to 1981. Moving on to the Musikhochschule in Freiburg with Brian Ferneyhough and Klaus Huber, she graduates there in 1983. During the previous year she studies computer music at IRCAM (Institut de Recherche Et Coordination Acoustique / Musique) in Paris, and from then on she decides to incorporate the use of the computer to her creative musical works as an essential part of her technique. With her particular use of computers, Kaija analyses the tonal colors and gets them to slowly change towards something fresh, thus achieving a "cold beauty befitting the northern firmament" in her compositions, as some musical critics have defined her. This trait is clearly reflected, in a way, in the titles she gives to some of her compositions, like for instance, Io, an obvious reference to one of Jupiter's moons, or Lichtbogen, inspired by the breathtaking aurora borealis.
At this stage in her life, as she was acquiring her musical education, Kaija joined for some time Esa-Pekka Salonen, Magnus Lindberg and other young radical Finnish artists with whom she founded the Korvat Auki ("Ears Open") group, whose aims were to promote the new musics, an association which was not to last beyond their student years, though.
The music that this expert composer writes has been performed all over the world from the eighties on, and several institutions, like for instance the Finnish National Opera, the BBC, the IRCAM itself, where she attended computer courses applied to music, the Lincoln Center in New York and even the organizers of the Salzburg Festival, have in different occasions commissioned her to compose several pieces throughout her career. No wonder she has received several international awards, among these the Kranichsteiner Musikpreis in Darmstadt in 1986, during the summer courses on the new musics organized by this institution; the Prix Italia in 1988 for her radio composition Stilleben; and the Ars Electronica prize in 1989 for Stilleben, as well as for her cosmically inspired composition Io.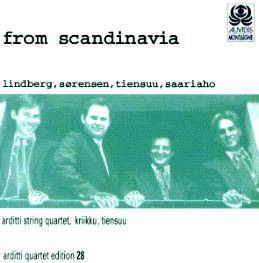 Although she has settled in Paris from 1982, Kaija receives her salary from the Finnish government, for her work as a versatile composer and artist. Her most important works include Verblendungen (for orchestra and tape, 1982-84), Lichtbogen, for chamber ensemble and electronics (1985-86), Jardin Secret I (tape, 1984), Jardin Secret II (harpsichord and tape, 1984-86), the already mentioned Io (for ensemble, tape and electronics, 1986-87), Nymphea (for string quartet and electronics, 1987, a commission from the Lincoln Center), her award-winning radio work, Stilleben, (1987-88) as well as several orchestral pieces grouped under the generic title Du Cristal (1989-90, a work that had been conjointly commissioned by the Los Angeles Philharmonic Orchestra and the Helsinki Festival).
Besides her own musical works, Kaija Saariaho has participated in several multimedia productions in which different artistic genres are intertwined, like for instance the ballet Maa (1991). Other compositions resulting from her creative genius are Amers (1992, for cello, ensemble and electronics, commissioned by the Barbican Centre and IRCAM), Solar (1993, for ensemble and electronic keyboards, a commission from the City of Antwerp for Champ d'Action) and Trois Riviéres (1994, for percussion quartet and electronics, a commission from the Strasbourg Festival). In 1995 the BBC Proms Season together with the VARA institution from the Netherlands commissioned her to write a violin concert, titled Graal Theatre. When this concert premiered, the BBC Symphony Orchestra was conducted by Esa-Pekka Salonen, and legendary violinist Gidon Kremer performed as soloist. One of her latest works is the composition of a cycle of orchestral songs for the Salzburg Festival in 1996, sung by Dawn Upshaw.
The special music composed by Kaija Saariaho has been released by different labels, among these, Finlandia, Ondine, Wergo, Neuma and BIS, and her music has likewise been published by Edition Wilhelm Hansen and Chester Music. Also her compositions have been recorded by, among others, Esa-Pekka Salonen, the Los Angeles Philharmonic Orchestra, and the Kronos Quartet.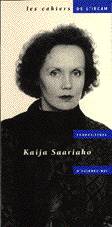 Formerly influenced by the post-serial tradition, she soon grew tired of the multifarious limitations imposed on her creative genius by this traditional school. She
rejected the restrictions of having to compose within their limited parameters, or as she claims, "composing through negations", since this trend did not allow for rhythm, tonal harmonies or definite melodies. According to her, all available means are to be allowed, provided they are adequately utilized. Despite all these ideas that have shaped most of her work, currently Kaija has neglected the use of electronic instruments and favored the acoustic ones, and her latest compositions are more typical of the great orchestras, at the same time cultivating a more open, outward-directed, and also more dramatic, musical language, as can be seen in such pieces as the already mentioned ones grouped under the title Du Cristal and her violin concert, Graal Theatre.
Kaija Saariaho admits that there is a strong commercial pressure against musical experimentation and minoritary new musics, which could mean that the genre she represents is in grave danger, as it could die out in the next twenty years. In spite of such a dark prediction, Kaija believes that new musicians must not give up, that it is vital to continue searching for what is new, even if it must be done on one's own.
ESSENTIAL WORKS BY KAIJA SAARIAHO
-Verblendungen (1982-84)
-Jardin Secret I (1984)
-Jardin Secret II (1984-86)
-Lichtbogen for chamber ensemble and electronics (1985-86)
-Io (1986-87)
-Nymphéa (1987)
-Stilleben (1987-88)
-Du Cristal (1989-90)
-Amers (1992)
-Caliban's Dream (1993)
-Solar (1993)
-Oi Kuu (1993)
-Graal Theatre (1994)
-Trois Rivières (1994)
-Six Japanese Gardens (1993-95)
-Chateau de l'ame (1996)
-Lohn (1996)
Do you wish to purchase any recordings by this artist? It's very easy, click here:

---