PAULINE OLIVEROS, A PIONEERING ARTIST IN THE ALTERNATIVE MUSICS
By: Sigrid Baumann.
---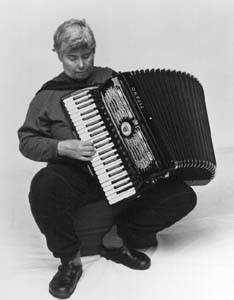 Born in 1932, composer and performer Pauline Oliveros, is considered to be a pupil of Robert Erickson's, a pioneer in the field of electronic music, a virtuoso accordionist, music teacher, author, and an excellent philosopher who has transformed the American musical panorama with her versatile work in improvisation, electronic techniques, rituals, myths, teaching methods as well as in a wide range of activity to promote avantgarde music. Current meditative music ows Pauline Oliveros its existence, as she is considered its original creator. Sonic Meditations, a work where her philosophy is reflected, would mean her becoming a source for inspiration for the meditative arts in all their ramifications, as well as for musicians, artists and even doctors who claim that meditation has healing properties.
Pauline Oliveros would become a pioneer in the new musics in the sixties, when she became the director of the Mills College Tape Music department. Later she spends fourteen years of her life at the University of California in San Diego, where she plays a vital role in the world-wide famous program of new musics in this institution.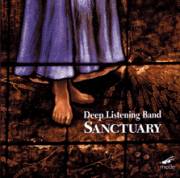 In 1981 Pauline leaves her post at the University of California so as to develop her ideas, carrying out her creative projects, and solo performances, as well as different collaborations. To this end she founds the Deep Listening Band, a special ensemble in which important figures of American avantgarde trends take part, among these Stuart Dempster, Panaiotis, and David Gamper.
The artist founds in 1985 The (non-profit) Pauline Oliveros Foundation, Inc. in Kingston, New York, for the support to all the aspects of the creative process aimed at a worldwide community of artists, their musical productions, and their dissemination, within an innovative program for the creation of new work. This Foundation, presided by Pauline, includes in its files a true catalogue of the American musical avantgarde, with recording material, scores, books, videos and information on such varied artists as Pauline herself, John Adams, Richard Kostelanetz, Christine Baczewska, Ellen Band, Brenda Hutchinson, Connie Kieltyka, Jane Leach, Annea Lockwood, Laurie Spiegel, etc. During this same year the John F. Kennedy Center offers a review of her work in Washington. The year before, an antology of her works is published as Software for People.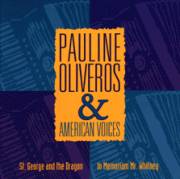 Pauline claims that music must transmit a positive energy, through deep listening, collaborating with others. Roots of the Moment, released in 1988, according to the New York Times, was the best CD that year. As a composer, Pauline has been awarded in several occasions, among others with the Bessie Award from the Dance Theater Workshop for Contenders (1991), a work for the Susan Marshall Dance Company, a Fellowship from the National Endowment for the Arts in 1992 for her composition Epigraphs in the Time of Aids, for the Deep Listening Band, besides an award from the Foundation for Contemporary Performance 1994 for her work.
In December 1993 a musical theater work premieres, Njinga the Queen King, with original music by Pauline Oliveros, in the Next Wave Festival from the Academy of Music in Brooklyn. Her CD Pauline Oliveros & American Voices (1994) is a great success on the part of the critics. Other activities that Pauline engages in include her participation in the "Festival de Música Visual de Lanzarote" (Lanzarote Festival of Visual Music), as well as her numerous collaborations writing articles for the Leonardo Music Journal. In 1995 she composes Ghost Dance, in collaboration with Boston coreographer Paula Josa Jones, a commission by the Lincoln Center, as well as music for the production for Mabou Mines Lear.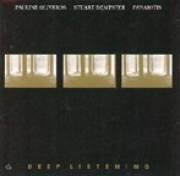 Pauline has performed at the John F. Kennedy Center for Performing Arts in Washington, DC, New Music America Festivals, besides giving countless performances in numerous concert halls all over the world. In the tenth anniversary of the Foundation a number of concerts and lectures are held in Kingston, New York. Her recordings can be found in several labels. Among her compositions we could mention Crone Music; Tara's Room; Deep Listening; Vor der Flut; The Wanderer; Troglodyte's Delight; The Ready Made Boomerang; Sanctuary; Sounding Way, Tosca Salad; among many others.
Oliveros explores in her compositions all the possibilities that technical progress has to offer the artist. To her, any technique, be it acoustic instruments, electronics, tapes, computers, or even instruments specially designed and built by the musicians themselves, be it high technologies should they be able to access these, as well as the ritual, dramatic/teatrical aspects of the arts in general, all these are elements that can contribute to musical creativity. Her innovative genius and her exceptional vitality and expertise in the avantgarde musics have already placed her in the history of music as one of the greatest authors of all times.
---

Previous Page (Features/News)