GEORGIA KELLY:
The Magic Harp
By: Montse Andreu.
---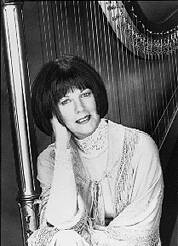 Georgia Kelly is a woman whose many concerns have taken her to explore numerous areas. This prestigious harpist and composer started in the world of music at age three, when she began to learn piano, even if later she would choose the harp as her favourite instrument, an instrument that would lead her to reach a classical virtuosity not often achieved by other artists. Her thirst for knowledge is such, that, besides specializing in music, mainly with her harp, as well as becoming a virtuoso performer and composer, she has studied some unusual languages, such as Sanskrit and Serbo-Croatian. Georgia has also studied Eastern philosophy, transpersonal psychology, the Jungian pshycological school, and Raja Yoga, not to mention her continuing with her musical studies in voice, ballet and the composition of movie soundtracks at the University of California at Los Angeles (UCLA). Among her professors in the harp mention must be made of Marjorie Chauvel, Joel Andrews and Anne Adams.
CROATIAN ROOTS
Georgia was born in San Francisco, and spent her childhood in Palm Springs. Later she moved to Los Angeles and other places. Currently residing in California, since 1988 the artist spends part of the year in Europe, specially in Croatia, where she has some relatives, as she finds out then. She decides to travel to the Adriatic so as to get to know them. This first trip means the beginnings of a deep love for the land of her ancestors, as well as a stage of warm, nice experiences that Georgia will always cherish in her memory. These would later be reflected in her album Gardens of the Sun, mostly composed in Zagreb, Croatia, inspired in the many months the artist spent travelling all over the former republics of Yugoslavia just before the terrible civil war ravaged that beautiful country. After that horrible tragedy, the album would include a "Requiem", composed in collaboration with Dusan Bogdanovic. Her interest in the development of events during this conflict has also led her to publish several articles on the war. Likewise, Georgia has participated in different radio programs and discussion panels on this topic. Kelly expects to reflect her experiences in this country before and during the war in a projected book to be published soon.
An untiring political activist, Georgia gets involved in the American presidential campaign by Jerry Brown in 1992. She is elected as a delegate by Jerry Brown at the National Democratic Convention this same year. From then on, she works with the Educational Committee of an organization created after this campaign, "The People", and she also contributes to several active political organizations dealing with different given issues. Likewise, she gets concerned about the international problems, an interest she reflects in her participation in the World Affairs Council in San Francisco, among other activities.
A MUSICAL CAREER OR A HOBBY?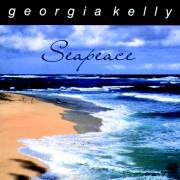 With respect to her musical career, her innate skills to compose and her masterful performance with the harp soon lead her to achieve artistic success. In 1978, Georgia produces her first album, Seapeace, and soon after she establishes her own label, Heru Records, as well as her own distribution network, having a remarkable success, given the pioneering character of this label which specializes in New Age music. In this first album, of a classical make, Georgia expresses her musical ideas in the purest of New Age styles. The artist has composed a collection of studios and musical meditations for the harp, in which she interweaves the musical languages of the Eastern and the Western traditions, besides making use of an acoustic violin and incorporating natural sounds. The result thus achieved is reflected in a melody that underlines the sea sounds of waves at the same time transmitting inner peace and an aura of relaxation that would soon become her most distinctive feature.
This first album achieves an immediate success in sales, with more than 250,000 copies sold, of which more than 100,000 are distributed in the alternative market. Georgia Kelly herself finds it hard to believe. As she explains, "On January, 13, 1978, I recorded Seapeace, my first album of original compositions. Little did I realize that evening -- when I recorded the entire album -- that I was launching a long-term recording career. I had almost decided that trying to earn a living as a musician was not to be, and this recording project was one last effort before relegating music to the status of a hobby. With $2000 of borrowed money, I recorded, mixed, mastered, and pressed 1,000 copies of Seapeace. I distributed it primarily through metaphysical bookstores. Within three months of its release, it had become an underground hit, and I knew music was meant to be my profession. I was amazed at the response to this first album and soon found myself setting up a record label and distribution company."
Considered to be a classic of this genre and a true masterpiece, Seapeace revitalizes the role of the harp as a soloist instrument, at the same time making this work into a pioneer style that in those times did not exist as such, years before anyone thought of the New Age music as a genre with its own identity. With Georgia Kelly, a renaissance of the harp, an instrument that historically has always symbolized peace, serenity, having a special meaning in all the myths and legends of ancient history, is thus assured. As a composer specialized in writing scores for the harp, Georgia has no rivals, and she has recorded more than a dozen works, both as a soloist and in collaboration with other performers, as for instance the already mentioned artist Dusan Bogdanovic, or the no less known musician Steve Kindler, having a remarkable success. Several of her albums have reached the top lists, among them the Billboard Magazine's Classical Cross-Over and the New Age Music Chart, while the musical industry praises them in very flattering terms.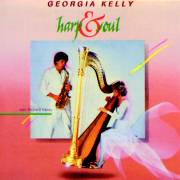 Between the years 1986 and 1992, Georgia releases different albums under the label Global Pacific Records: Fresh Impressions, a duet in collaboration with violinist Steve Kindler; A Journey Home, a duet with guitarist Dusan Bogdanovic; and Winter Classics, a popular Christmas album in which she performs several pieces by Bach, the famous canon by Pachelbel, as well as different Christmas melodies typical of the anglo-Saxon countries, among other compositions.
Georgia Kelly's album Birds of Paradise includes a kind of music of a very romantic nature, in a marvellous evocation of dreamy gardens, where the magic of her harp and the flute incorporate the songs of the paradise birds, in a wondrous world, full of happiness and innocence, of peace and serenity, awakening in the listener an aura of optimism and softness which turn out to be highly satisfying.
In her album Harp and Soul, the fourth to be released by her own label Heru Records, Georgia collaborates with versatile performer Richard Hardy. Harp and Soul is a recording that explores different musical genres, ranging from instrumental versions of popular songs such as "Evergreen" by Barbara Streisand, performed with deep feeling, to a beautiful version of the classic by Eric Satie, "Three Gymnopedies". The virtuoso rendering of these pieces by the solo harp is likewise reflected in her version of "The Rose", a song by Amanda Broom, and "Arioso", by Bach. Georgia and Richard are also the co-authors of "Chiavenna", a duet for harp and flute.
Perennials: The Georgia Kelly Collection, is an album that has been released by the label Seventh Wave, Suzanne Ciani's, which also releases some of her previous works, such as Seapace, Harp & Soul, and Gardens of the Sun. In Perennials, the artist compiles a retrospective of her successful career, where the best compositions and performances by Georgia find an unparalleled reflection. The themes include tracks from her nine previous albums, many of which had not been recorded in digital form before. Teja Bell, a New Age artist whose expertise in sound engineering is outstanding, has contributed to reproduce in the best possible way these themes, where Georgia displays her mastery with the soloist harp, besides her control over such instruments as the violin, the flute, the guitar, the clarinet or the choir. This album has as its first track the theme that initiated her career, Seapeace, and continues in a chronological order with the subsequent compositions Kelly wrote, including the best of her albums Tarashanti, Birds of Paradise, Sound of Spirit, Harp and Soul, Eros and Logos, A Journey Home, Winter Classics, and Gardens of the Sun. This album contains then, many songs no longer found in others, besides Georgia's favourite melodies, and is an excellent sample of this composer's good work; furthermore, listening to this music is a most appropriate way to relax. With respect to this compilation album, Georgia herself explains: "Putting this collection together has been a journey through the past eighteen years of my life. The relationships, interests, and feelings that I experienced have permeated the music in ways I could not have realized at the time. But as I listen to the pieces sequentially, a story unfolds. For this reason, I have placed most of the pieces in the order of their release dates. (...) I hope that you enjoy this musical journey, I am happy to be able to share these eighteen years of my music and my passions with you."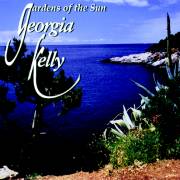 Besides her discography, Georgia Kelly has co-produced two therapeutic tapes with guided imagery, one of them in collaboration with doctor Emmett Miller, Rainbow Butterfly, and the other in collaboration with Hallie Austen, Woman Spirit. Furthermore, she has worked with the famous jazz performer Charles Loyd, whose specialities are the horn and the flute, in the album Big Sur Tapestry, and has co-produced yet another album with Stephen Halpern, Ancient Echoes. Georgia also has composed several soundtracks for documentaries, television programs and videos to promote health all over the world. Some of her albums have been released by other labels, besides her own, as for instance Sony (Japan), Oreade (Holland), and -as has already been mentioned- Suzanne Ciani's label, Seventh Wave. Georgia Kelly's albums are distributed by CBS and Rhino Records.
INDEPENDENT GUERRILLA FIGHTER
Georgia does not limit her personal interest to the fact of composing and performing her musical creations with her harp, but she also takes care of the business aspects of her music. Besides being in charge of her own recording label, this artist founds in 1993 an organization of independent artists with a view to managing their own recordings, called The Guerrilla Musician's Group. This group is basically formed by instrumental musicians working in a cooperative way in the commercialization, planification of concerts, organization of community services and other projects mutually beneficious both for the independent artists and their communities. Kelly, like Suzanne Ciani, with her initiative, shows her deep conviction that musicians in our times must become independent from the great multinational companies and recording lobbies that so often take advantage of the artists while limiting their creativity because of some mistaken commerciality, in a consumer fever that ignores true talent and strangles independent initiatives, very often suffocating promising careers before they have a chance to start. The solidarity among the musicians is therefore an essential asset to counter these stratifying trends and to fight for the rights of independent composers from a solidary platform that promotes the new musics and guarantees their quality within the musical panorama of our days.
SOMETHING MORE THAN MUSIC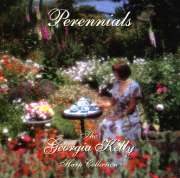 The music created by Georgia Kelly is based on her personal ideas, according to which music is not merely an art, but it also has therapeutic qualities, and by joining both traits, the listener can come to enjoy the deepest of qualities that contribute to generate healing processes and to awaken the physical and the spiritual well-being of the person. By invoking the tradition ot the harp as a spiritual instrument that contributes to relaxation so wonderfully, Georgia creates a music that affects the body and the soul of the listener in a positive way, at the same time reflecting her classical background, as the artists displays her versatile skills with the instruments, exploring and experimenting with them, and adding an ethnic touch in her beautiful compositions. The therapeutic effects of her music have been used in hospitals and mental health centers, such as the Kaiser Permanente in Los Angeles, as well as the University of Massachusetts Medical Center, where the artist has collaborated with therapist-composer Jon Kabat-Zinn in the production of a relaxation video for his patients. As we can see, then, the positive influence of her music on the patients is praised on the part of the medical professionals and therapists all over the world. Furthermore, Georgia's compositions are specially apt as meditative music, given their ability to inspire, relax, heal and uplift the listener.
With respect to the way the artist composes and performs her music, and the role it plays in her life, she herself explains: "I have usually followed my heart, and that path has brought adventures beyond my wildest imaginings. It is a path that has never allowed music to be my whole life, but has made music the artistic expression of my life. Relationships, travel, study, and politics are a part of all my compositions. Without them, there would be no poetry, no music. They are the passion, the commitment, the life stuff that inspires me to compose and to pluck!"
In a few words, Georgia Kelly is an accomplished artist whose musical career has proved to be brilliant and outstanding indeed.
---
ESSENTIAL RECORDINGS
-Ancient Echoes (with Halpern) (Sound Rx)
-Big Sur Tapestry (with Lloyd) (Pacific Arts)
-Birds of Paradise (Heru/Global Pacific)
-Eros And Logos (Heru/Global Pacific)
-Fresh Impressions (with Kindler) (Global Pacific)
-Harp and Soul (with Lloyd y Richard Hardy) (Heru/Global Pacific)
-In A Chord (with Huxley) (Global Pacific)
-Rainbow Butterfly (with Emmett Miller) (Heru/Global Pacific)
-The Sound Of Spirit (Heru/Global Pacific)
-Tarashanti (Heru/Global Pacific)
-Woman Spirit (with Hallie Austen) (Heru/Global Pacific)
-Winter Classics (Global Pacific)
-Perennials: The Georgia Kelly Collection (Seventh Wave)
---

Previous Page (Articles/News)