PETER GABRIEL: A WORLD OF MUSIC, ART AND DANCE
By: Emma Dors.
---
Recently we devoted an article to the WOMAD (World of Music, Arts and Dance) project, promoted by Peter Gabriel so as to support the arts of the traditional and contemporary cultures with different educational programs, performances and recordings, whose festivals have been taking place in more than seventy countries since its beginnings. Yet we may ask ourselves, what about WOMAD's creator? Who is this giant of modern music, whose work both in his solo career and in his collaborations with other musicians has not ceased to harvest success after success? In this article we will try to answer these questions.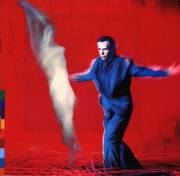 Peter Brian Gabriel was born on February 13, 1950 in Woking, Surrey (Great Britain). His beginnings in the musical world were at the drums, working for several soul and rock bands, before he founded a collective of songwriters in 1966, at his high school, together with some of his schoolmates, which was christened as The Garden Wall. This collective would soon become the famous band Genesis, with Gabriel as its leader, main songwriter and vocals. The band, with such musicians as Steve Hackett, Phil Collins, Mike Rutherford and Tony Banks, whose musical skills are considerable as well, soon make themselves well known all over the world thanks to their elaborate performances, their theatrical flair and the risky manner they face musical creativity in the making of a richly textured music, complex, well done, thus developing a peculiar way of understanding sound within the realm of progressive symphonic rock, this being a label that more or less adequately describes the kind of music the band choose to express their inner creative strength. Genesis succeed in attracting a great deal of followers and fans throughout their seven albums: From Genesis to Revelation (1969), Trespass (1970), Nursery Cryme (1971), Foxtrot (1972), Genesis Live (1973), Selling England by the Pound (1973) and The Lamb Lies Down on Broadway (1974).
In spite of their numerous hits in the band, Peter Gabriel feels the need to explore new paths, new musical terrains which allow him to express his musical creativity even better, and he leaves the band in 1975, so as to embark on a solo career even more fruitful than what he has been doing so far. Although his first three albums are released under the generic title of Peter Gabriel, these are best known with other names. The first one was Rainy Windshield (1977), which included the famous piece "Solsbury Hill". The second one, going by the name of Fingernails (1978) includes another well known hit: "D.I.Y.". And in the third album, Melting Face (1980), we find two themes that would illustrate his ideas with respect to the unity of all races, intercultural cooperation and the mutual understangding of all the peoples on Earth: "Games Without Frontiers", a theme that was to reach both the British and the American top lists, and "Biko," composed as a homage to the South African activist whose fight against the infamous apartheid politics caused him to be assassinated by the racist police forces in the country in their futile attempt to maintain an unsustainable situation for the party then in power in 1977. This latter song would be revitalized in 1988 with the movie Cry Freedom, by Richard Attenborough, a film whhere the life and death of Steven Biko were to contribute to spreading the word of the anti-apartheid fight in South Africa all over the world. With respect to the purely musical qualities of this new stage in the artist's career, even though his two first solo works have a more personal, intimate character, as seen in the expression of feelings and emotions with acoustic instruments rather than focusing on the sound per se, his third album is more experimental and technology-oriented, as seen for instance in the reverse recording of sounds, or the introduction of different sounds, apart from the fact that this album was a pioneer in the introduction of the Fairlight CMI synthesizer in a British recording studio.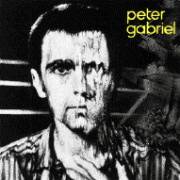 In 1982 Peter Gabriel signs a contract with the American label Geffen Records, where his new album, Security, is released. Both the album and the single extracted from it are certified gold, besides reaching the top 40 lists. This very same single, Shock the Monkey, also is nominated for the Grammy. His next album for this label, a double one recorded live during his American tour the previous autumn, is released a year later.
Despite having renounced to a place at a cinema school in his youth so as to pursue a career in music, Peter Gabriel has always felt a special interest in the possibilities offered by the world of the image and its links to the musical language. Such an interest would become instrumental in his developing several movie soundtracks, where he creates very special atmospheres, as ve can see for example in the soundtrack he created for Alan Parker's movie Birdy, whose album was released in 1984, as well as in his excellent musical videos and his multimedia, interactive CD-ROMs, where he proves to have an unsurpassed talent in the use of the latest technologies to create interactive Art of the best quality.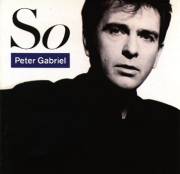 In 1986 Peter Gabriel releases So, his second solo studio album under the label Geffen, after about four years of silence in this sense. Only in America this new work comes to sell more than three million copies, staying #2 on the top lists for a considerable amount of time. The album includes the singles Sledgehammer, which reached number one, Big Time, included in the top ten list, and In Your Eyes, also in the top 40 list. This latter theme was to be likewise included in the soundtrack of the movie Say Anything. Peter Gabriel is once again nominated for the Grammys for "Album Of The Year", for Sledgehammer, for Rock Vocal, Record, and Song Of The Year. Besides, the music video of Sledgehammer becomes a classic of its genre, also nominated for an award, while the Rolling Stone magazine ranks it #1 in video history in "The 100 Top Music Videos" on October 14, 1993. This same video wins nine MTV awards, which is in fact something never seen before, including the Best Video Award as well as the prestigious Video Vanguard Award for his successful career in 1987.
The Last Temptation of Christ, a movie by Martin Scorsese, marks Peter Gabriel's return to the movie soundtrack world in 1988, yet the release of the music for such a controversial movie as an album by the label Geffen doesn't take place until 1989, under the title Passion subtitled as Music For The Last Temptation of Christ. With this album Gabriel wins a new Grammy award for Best New Age Recording as well as a nomination for Best Original Score. This score gathers such diverse influences as the kind of ethnic music from Pakistan, Turkey, Senegal, Morocco and other countries. This album also is the first official one released by the label Real World Records, a label created in 1989 by Peter Gabriel himself and WOMAD so as to record and promote a wide range of artists from all over the world according to the philosophical principles of the project World Of Music, Arts and Dance. Peter Gabriel establishes his own recording studios, the Real World Studios, sited in Bath (England), a place where every year there is a gathering of different musicians from all over the world in a synergy of musical creativity which has been christened as the Real World Recording Week. Also in 1989 Peter decides to donate his song "Red Rain" to the Greenpeace album Rainbow Warriors, released by the label Geffen, once again illustrating with facts his ecological ideals, on the same line as his support to the different cultures of our world.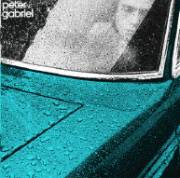 In 1990, Peter Gabriel releases his first compilation album with the best themes of his fruitful career, an album called Shaking the Tree -- Sixteen Golden Greats, which includes his favourite themes as well as his greatest hits, extracted from the albums he has done until that date. Two years later, his studio album US is released, becoming a certified platinum as it also remains in the top ten lists, together with the single extracted from this very same album, Steam, whose music video wins two MTV awards and a Grammy in 1993 for Best Music Video -- Short Form. "Digging in the Dirt", another hit, was awarded the same Grammy the previous year, being likewise nominated for Rock Vocal -- Male. A year later, Geffen Records release his eighth album in America, a double, live CD: SW (1994).
In 1995 Peter Gabriel releases a new interactive CD-ROM in a collaboration between Starwave Teams and Real World MultiMedia, Eve, where music, graphics, animation and videoclips are masterfully combined. Let's not forget that his first interactive CD-ROM ever, Xplora 1, produced by Real World MultiMedia, was a pioneering music CD-ROM as it included graphic designs and video sequences. In the 1996/7 edition of the Milia festival, held in Cannes, one of the most important festivals in the field of the interactive arts, Eve wins the Milia D'Or Award, an award that celebrates its being the most remarkable multimedia hit of the year given its originality and creativity, after a hard competition with another 385 works of an international character. Currently Peter continues to collaborate with the WOMAD project, among others. Hopefully, this wonderful artist will keep harvesting new hits in his successful career.
---

Previous Page (Articles/News)