hidrogen, A PIONEERING TELEVISION PROGRAM OF ALTERNATIVE MUSICS
By: Jorge Munnshe.
---
Hidrogen is a television program exclusively devoted to the Alternative Musics. It also has been in the air for longer than others of its kind without any interruptions. It is produced by Televisió de Catalunya (TV3) (a television channel having a coverage all over the region of Catalonia -Spain- and neighbouring areas). Hidrogen began its journey with an interview to Klaus Schulze during his mini-tour in Spain in 1991 together with videoclips by Enya, Paul Winter and others.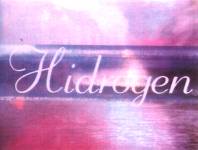 The program is broadcast by Canal-33, the second channel of the local TV channel, Televisió de Catalunya. It began as a monthly program, subject to frequent changes in its timetable, this being a trait usually suffered by the cultural programs on quite a number of the television channels. In spite of this fact, it has succeeded in achieving an enthusiastic audience, which meant it became a weekly event since May, 1993.
The basic team is led by Albert Reguant, an expert in Alternative Musics coming from the recording labels sector, who is in charge of its management and scripts.
Having a total running time of 15 minutes each program, Hidrogen is broadcast in stereo, and some programs are re-run during July and August. Additionally, Canal-33 broadcasts videoclips of Alternative Musics throughout the week, also in stereo.
A typical program of Hidrogen consists in 4 videoclips, an interview, the section of album novelties divided into several headings, and an agenda advertising the live concerts available in the area of Catalonia and neighbouring zones, as well as the most important festivals in Spain. From time to time, there also are special monographic programs, such as for instance those devoted to Himekami and Madredeus.
Some of the most interesting interviews broadcast so far have been those referring to: Suzanne Ciani, Michael Nyman, Nightnoise, Kitaro, Wim Mertens, Loreena McKennit, Philip Glass and David Bowie.
Amongst the music videos offered, mention must be made of those starred by Kitaro, Deuter, Michel Huygen, Philip Glass, Iury Lech, Clannad, Enya, Serah, Paul Winter, and Eddie Jobson.
As I was getting ready to write this article, I had the wonderful chance to be invited to the studios at Televisió de Catalunya by the director of the program, so that I could visit the different technical facilities where, step by step, Hidrogen is elaborated and share an evening with the production team. This experience showed me that making a television program about the new musics is far tougher than what the audience could imagine, not merely a little more complex then a radio program. Fifteen minutes on the air require an impressive high tech equipment and even so they imply hours and hours of video and audio montage, viewing, reviewing, overprinting with subtitles, elaboration of logos and visual effects, a kind of work very akin to that done at movie studios.
During my visit with Albert Reguant, the one responsible for the program, I could see him fighting the budgetary limits in his conversations with the production manager, taking care of his script being developed according to his indications before the difficulties pointed out by the production team, studying the filming of concerts, all of which adds to his permanent situation as being alone in front of danger with respect to his job as a journalist, since almost from the very beginning, he has been the only person to shoulder the enormous responsibility of getting access to videos, interviews, concerts to be filmed, novelties to be advertised, to carry out week after week this commitment with the audience of the new musics on television.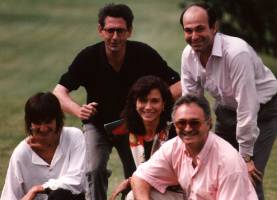 The elaboration of Hidrogen begins with journalist work: being informed about album novelties and concerts, the search for artists to be interviewed or filmed, the access to video-clips, CDs, and other material. Films are made at the studio or by sending a mobile team. These complete recordings, which can last several hours, must be summarized to a few minutes, at the same time aiming for a final result which is coherent enough and reflects as faithfully as feasible the essence of the unabridged version. The work to select the segments of this summary is done by Albert Reguant as he views in an exhaustive way the material to be processed and then he marks the different cuts by means of the time-code (a device that looks like a chronometer acting as a counter). The final duration of the recording must fit exactly the one scheduled for the program, therefore many calculations about timing must be made besides. Once all the segments have been selected, the visual montage is done, and it must seek the best ways to merge the segments, using fusions, changes of plane, and other movie-making resources. The subtitles are then added, in such a way that they must fit the duration of the sequence and at the same time each line requires a different duration that allows for its being comfortably read besides fitting the total time amount pattern. The logos and visual effects are made by means of computers and complex systems to mix, superimpose or combine images or their textures, which furthermore requires a well supplied image file. This process, in Hidrogen, requires a minimum of seven hours and two people. I was a witness of such for the interview with Philip Glass and David Bowie. There were some moments of nervousness and tiredness when things didn't go the way one wanted them to go, but these were countered by the satisfaction of the finished work being viewed as we had a cup of coffee. Once the visual and sonic montage are finished, Hidrogen is reviewed at an isolated cabin, and it is then ready for broadcast: 15 minutes that are perceived as scarce by the audience, believing that the effort needed for them is not greater to that of any radio program lasting much longer andd being broadcast more often.
---

Previous Page (Articles/News)