K

TARO
PRESENTS THE COLLECTION "KITARO'S WORLD OF MUSIC"
By: Jorge Munnshe and Montse Andreu
---
The famous Japanese musician Kitaro has inaugurated his collection Kitaro's World of Music. We had the chance to attend one of the press conferences he offered to present his new project, and we were able to ask him some questions.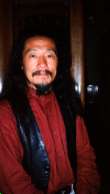 Before the press conference, we were talking informally with Kitaro. We could see that he is a very accessible, friendly person, to whom success has not caused him to build a barrier between him and his followers. Smiling, nice, even showing a good humor, he has known how to keep his humility even after his enormous success. Many artists having less records sold behave as if they were gods and ask to be treated with all the ceremony that Very Important People (VIPs) are due. Unlike these, Kitaro made those of us who talked with him for the first time ever face to face, feel at once as if we were talking to a friend, and not to an untouchable star. In our case we only had the previous experience of a phone interview with him some time before, during which we could already glance at his great humanity, which no doubt is also his artistic impulse.
Kitaro began his musical career within symphonic rock, as a member of the Far East Family Band. By the mid seventies, he discovered, after getting acquainted to synthesist Klaus Schulze, the immense creative potential of synthesizers. This led him to an artistic evolution that ended up with the beginnings of his solo career. The music that he then started to make happened to be so innovative and impressive that he soon came to be known outside his own country. His soundtrack for the TV series Silk Road definitely consecrated him as an electronic composer. Since then, his success has not stopped. He has been awarded various prizes, such as the Golden Globe for his soundtrack of the movie Heaven and Earth directed by Oliver Stone, or nominations to the Grammy. His popular diffusion has also grown exponentially, as he has come to sell millions of records. In these last years, Kitaro has abandoned somewhat the most electronic aspects in his music, turning to the acoustic music.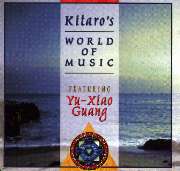 Kitaro's World of Music is some sort of collection or a label that the record company Domo Records has begun so as to publish works by artists discovered or sponsored by Kitaro. The two first CDs appearing are performed by the musicians Yu-Xiao Guang and Nawang Khechog. The kind of music selected is basically acoustic, even if Kitaro notes: "yet I do not reject electronic music". This acoustic focus can surprise some of the followers of Kitaro less familiar with his current artistic trajectory, who know him mainly through his electronic compositions. The musician explains his intentions in creating Kitaro's World of Music: "I'm interested in acoustic music, not electronic, as a complement to my own music. Kitaro's World of Music goes on an artistic direction different from my own electronic music. On the one hand there is the electronic music by Kitaro, and on the other hand there is the label Domo Kitaro's World of Music with acoustic works". Both things appear in separated labels within Domo.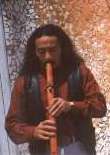 With respect to the acoustic universe, Kitaro does not feel inclined towards any given genre, although he specially values the musicians that use traditional instruments, rather than orchestral ones. He shows a great interest in promoting the folkloric musics from all over the world, and merge them. This aspect is well known within his own music, where he has always incorporated elements of World Music. "The etnic sound, the native music, the traditional, attracts me. I like using this folk element in my music". To him, this is not a mere question of taste, but also an ethical duty. He states: "It must be prevented that the traditional acoustic instruments that nowadays are falling out of use end up disappearing altogether. Each one of them has a long history, which sometimes encompasses centuries. I wouldn't like it to become lost. I intend that the next generations have access to this cultural legacy".
When asked whether, apart from his artistic criteria, he has other preferences to choose the artists, like for instance, those who have worked for him, he answers no. "Although Yu-Xiao Guang is one of the musicians in my band, this fact does not mean that I may have any preferences. I am open to new musicians who prove their worth".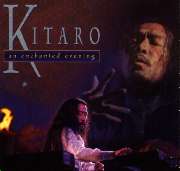 Besides creating this new label, Kitaro has been involved in other activities recently. Among them, perhaps the most remarkable one is the release of his album An Enchanted Evening. "In this disc I review old themes. Every time I do so, I evolve in the sound, in the technique, and in other characteristics. Every time I play something live it comes out differently; it's not merely repeating but making it even more perfect".
His artistic relationship with movie maker Oliver Stone has been satisfactory even if difficult: "I'm satisfied with my movie soundtrack for "Heaven and Earth". In general, I liked to work with Oliver Stone, but due to his strong temper in some occasions we had rather hard arguments". About current activities and future plans, he explains us: "I am working in the music for a ballet, and in my next world tour I am going to include this music". He announces that his next CDs will also include, just like in the case of An Enchanted Evening, a CD-ROM track with multimedia material.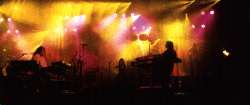 Kitaro has not forgotten the spiritual motivations that led him to initiate his successful solo career. Nowadays, when he composes, he continues to have these motivations in mind. And even, in the opinion of many fans, this attitude has caused his music to be so special. "Perhaps. It is possible that this spiritual aspect influences the acceptance that my music has. Nobody else does the same as I do, since the people tend to compose in general in a routine way. I do something different, I try to compose my music spiritually and this must surely be felt. Many artists that make alternative music utilize only the new technologies: I use, besides, the ancient acoustic instruments, and this fact can shape an essential difference".
---

Previous Page (Articles/News)